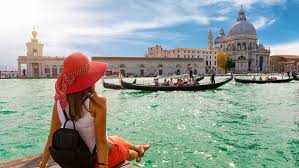 Does traveling make us happier? Most people head for the shops with great determination whenever they have money in their wallets, and we feel just a bit happier with every new purchase. However, that satisfaction is gone in just a few days, and we are left with nothing but a product we once loved, but now just use it as much as the other similar products in our home.
The main problem here is that we try to buy out our happiness, and that's the reason it only lasts for a few days. In order to find true happiness, one must learn how to adapt. We are forced to search for our next purchase whenever the level of satisfaction we feel about something we've recently bought falls, and we repeat this process again and again.
Researchers from Cornell University have carried out research in which they found a way how to break this cycle. According to psychology professor Thomas Gilovich, the solution is to travel more! As it turns out, people experience the same increase in happiness when we buy something when we go traveling, but the important thing is that even though the amount of happiness when we buy something falls over time, the memories of our traveling experience continue to supply us with the happiness hormones for a much longer time.
Learning new skills, playing new sports, even extreme sports, going on unusual events, going on trips with your family or friends – all of these are a source of happiness that will last much longer than just purchasing something you like. Every new memory we make becomes a new, real source of joy that will stay with us for a long, long time, maybe even for a lifetime!
Are you struggling to find the time to travel? Let Valet Maids – the best maid service Dallas has to offer – take care of the cleaning for you. This will free up your time to do things that will truly make you happy – like travel! Book your cleaning at valetmaids.com or by calling 214-438-4804.